23.4.1956 the day Mother's International started.
23.4.1970…. the day I got married.
02.09.1971 the day I joined MIS.
This may seem like a simplistic timeline but it is far from it. These dates mark the start of my journey of rediscovery, a journey which started almost 4 decades back —the people, minds and moments which shaped me and helped me move along the learning curve in my life.
Today I want to share with you the joy of these beautiful years gone by and the fragra
nce of freshness that they've instilled in me for life.
Even as a child I had a hunger for knowledge and kept looking for ways to satiate it and that search sometimes made me restless. I came from a good family and had a convent education, yet the concept of someone actually going out and working was alien back home; but the merits of good education was never lost on one's personality. My teachers had left a lifelong impression on me and empowered me —I use this word because my learning was not about moving from one class to the other, it was about learning the art of thinking, being able to express myself fearlessly and taking my own decisions.
One such decision I took almost one year into my marriage with an 8 month old baby- I decided to be a teacher hoping I could share at least some of what I had received and cherished so dearly.
And thus I found myself in front of Mr. Surendra Nath Jauhar (fondly known as Chachaji), the founder of Mother's International. It truly was a very memorable meeting; this was the first school I had applied to and after meeting Chachaji, I was convinced this was where I wanted to be. His clarity of thought, his vision and the confidence to live it made me believe that I too wanted to be part of the unfolding success story of this institution.
I joined instantly without a second thought and ever since there's been no looking back.
Starting as a primary school teacher, in my initial days I taught almost all subjects. There were few classrooms, even fewer children. Over a period of time, even while we grew, we never hoarded either on classrooms or children; the system was to give personalized attention to children unlike many other schools. We were encouraged to make the education process fun and inclusive and this we tried through various means like taking the children for excursions, encouraging participation in exhibitions, house activities, cultural programmes etc.
We believed in the complete personality development of the child and I always worked towards the more creative expressions of education. Honestly speaking, I really enjoyed working this way as I was very fond of this mix of activities and teaching.
Initially, as we were a small unit, we took the children for nearby picnics to Qutub Minar, Rose Garden, Humayun's Tomb etc. We would all plan and pack our lunches and between all of us , it was a welcome feast- the beauty lay in simplicity, sharing and caring.
I was so taken in by the thrills of the job, I didn't even realize as time passed that as the school grew from tin shade classrooms to a beautiful building, so did my responsibilities, both at work and home. I was given higher responsibilities in the primary wing within two years (also the time around which I had my second child).
Even the working hours those days were longer. Today when I look back I sometimes think it must have been tough; getting up early in the morning at 5 to prepare for school with children's breakfast, tiffins, husband's lunch, maid and yet always be in time for the bus. But I carried on and never compromised one part to make way for the other because I believed that additional responsibilities should not reduce the effectiveness of the old ones.
Over 40 years I must have taught thousands of students, met so many parents and yet I never felt it was boring, repetitive or mundane because each class potentially was a theatre of opportunity as every child was unique and special.
As we entered the new millennium, our lives too were up for a change and the choice was ours — do we adapt to it or isolate ourselves? I decided to go with the former. Even being a technophobe, when the world of internet, cable TV, computers made way into every area of our lives, I embraced them, albeit with a bit of apprehension.
I decided to give it a go and joined the computer class with my students. I remember how some of them were completely shocked to see me there, sitting next to them and learning the same things as they were; it was new to them, it was new to me and at one level, we all became students- this simple process brought me very close to them.
Albert Einstein says, "It is the supreme art of the teacher to awaken joy in creative expression and knowledge." And I never forgot these lines.
But one thing that I think most students remember me for is discipline. For some reason, this word is often misconstrued as 'fear'. Discipline is positive, fear is not. Even in my personal life, I was a disciplined person because that came naturally to me —being punctual, diligent, duty conscious. One can tell others what to do, sometimes even practice what one preaches but I've learnt that one of the most important things as a mentor and a teacher is to inspire. Nothing beats the thrill when the person feels the creation is theirs.
I could go on and on about the most beautiful part of my life. Even today when I've retired, I go to school for Annual day, Mother's birthday and Sri Aurobindo's birthday because I can't get enough of it. Truly the journey continues…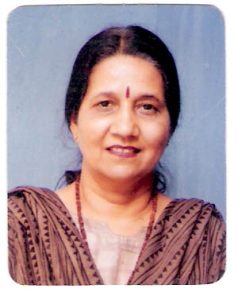 About Mrs. Vinita Yadav
Vinita Yadav Madam joined MIS in 1971 in the primary section. In her 39 long year association with the school, she has taught many many batches. A multifaceted person, with an unmatched zeal for life, she is lovingly remembered by all her students. She continues to be an inspiration for all those who come in touch with her.